Sean & Lacey in the Clo Gown
There is nothing more we love than for our brides to be truly themself in our gowns. Lacey takes the cake for this as she goes into detail about her wedding in North Cascades National Park. A 1 mile hike from the trailhead to a beautiful alpine lake with mountains surrounding and a stunning waterfall flowing either side - this was truly a special wedding.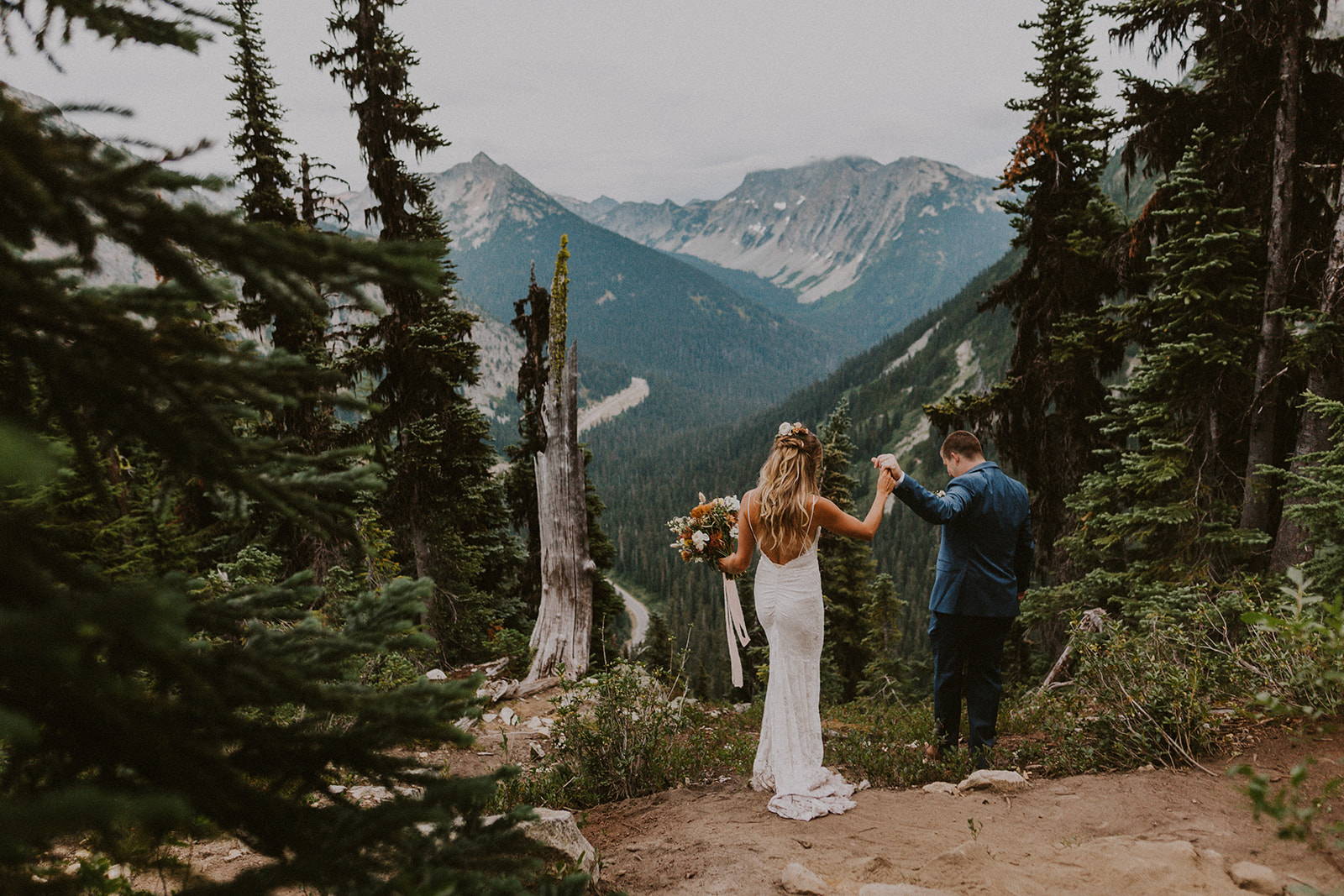 What is a Grace Woman to you?
She is confident, embraces who she is, and honors the qualities that makes herself unique. She also has a strong emotional connection with touch, sight, and feel.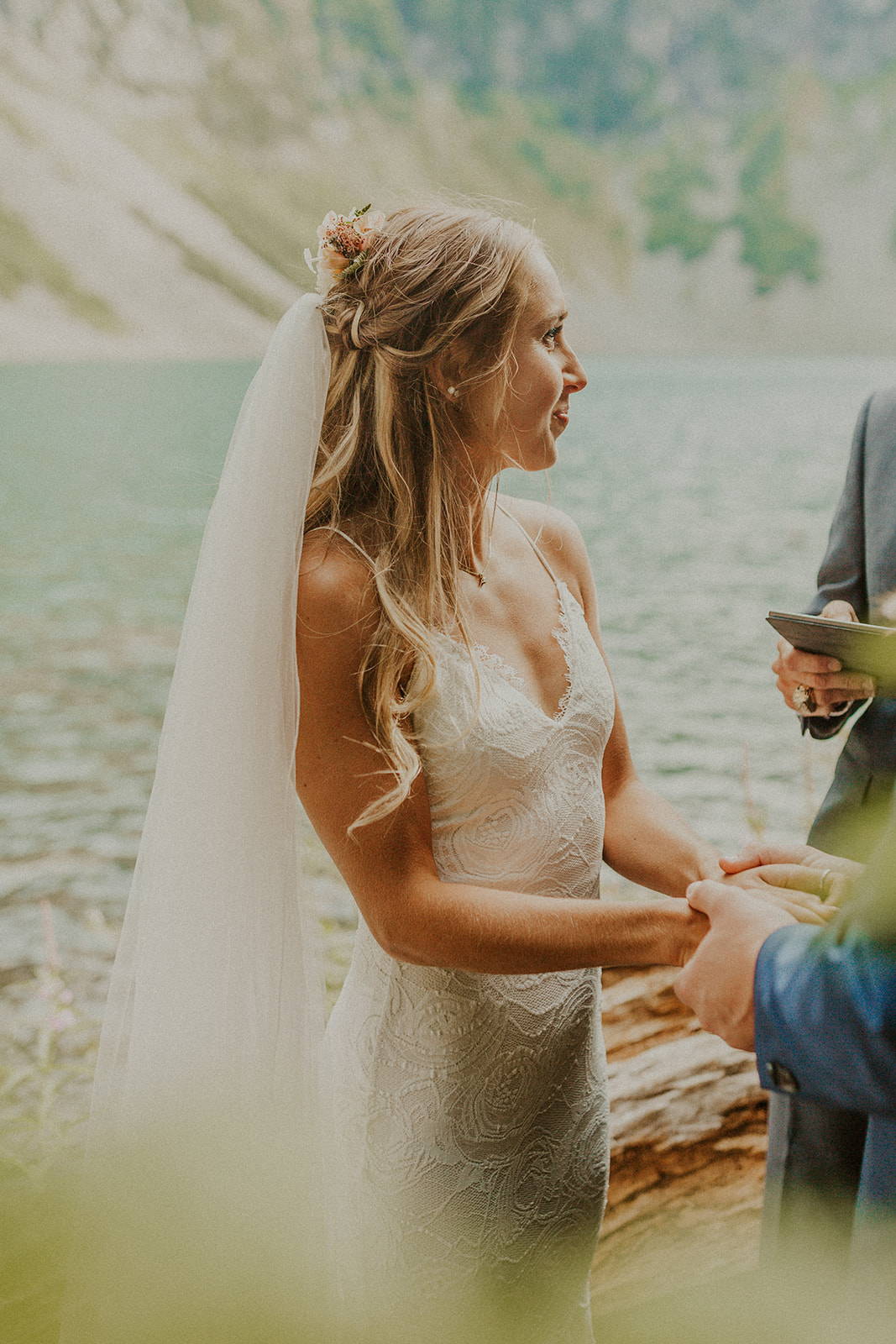 Which Grace dress did you choose and how did you know it was 'The One'?
For quite some time, I had pictures of 'Clo' saved on my phone, even before my fiancé and I got engaged. The dramatic, low back, lace details, the way it hugs and accentuates ones figure, everything about it spoke to me. I remember being in the showroom and purposefully waiting to try on Clo last as I knew it was 'The One.'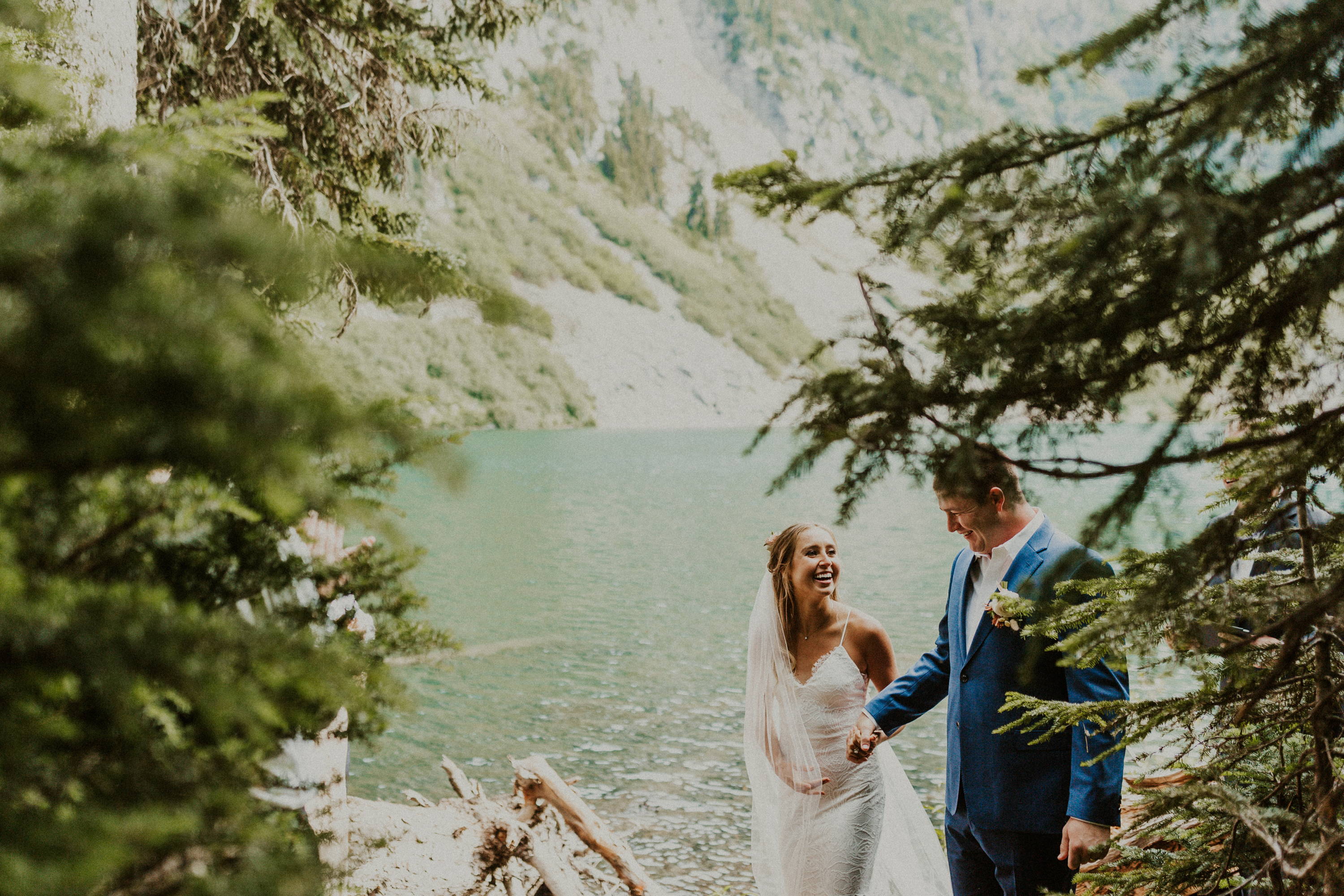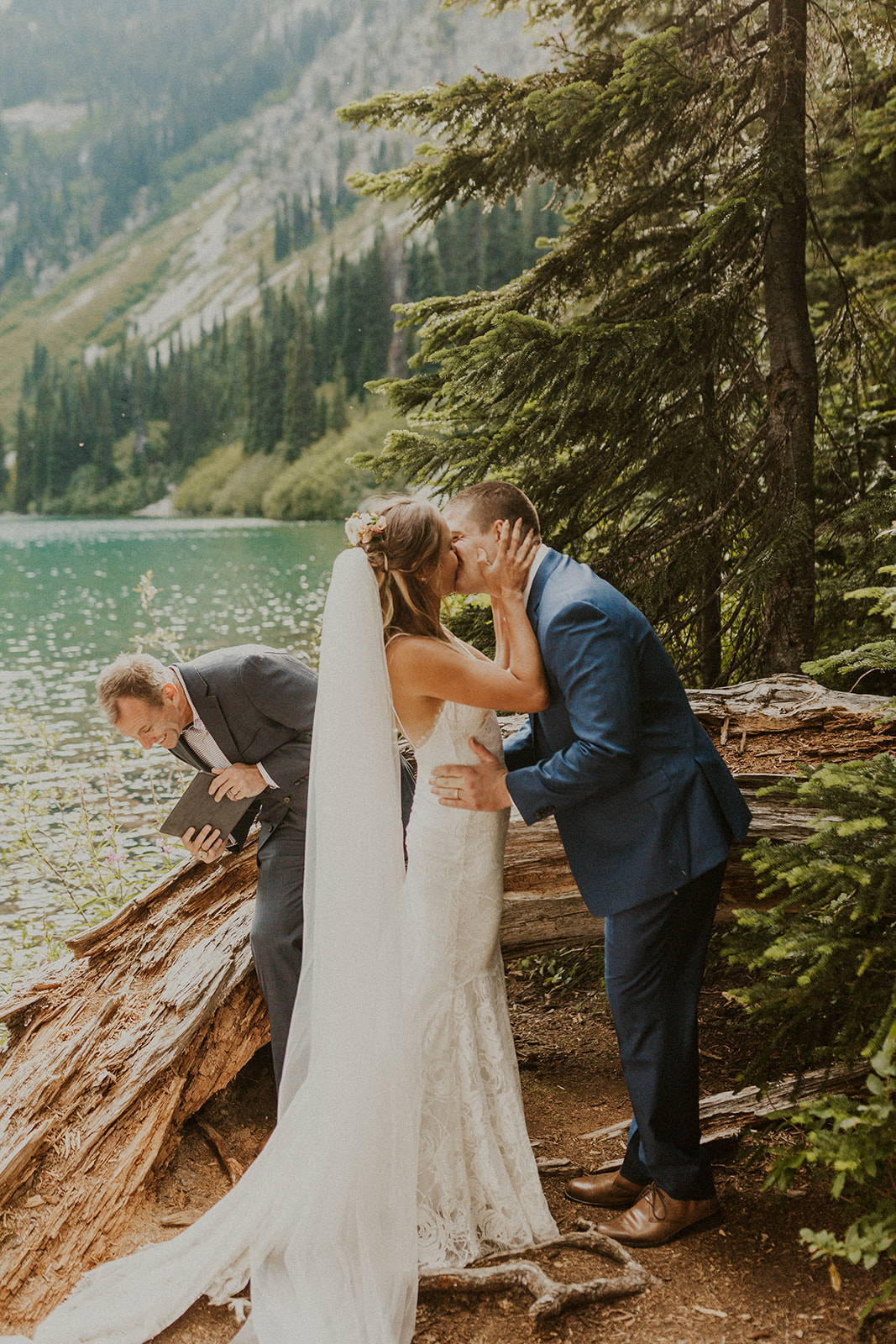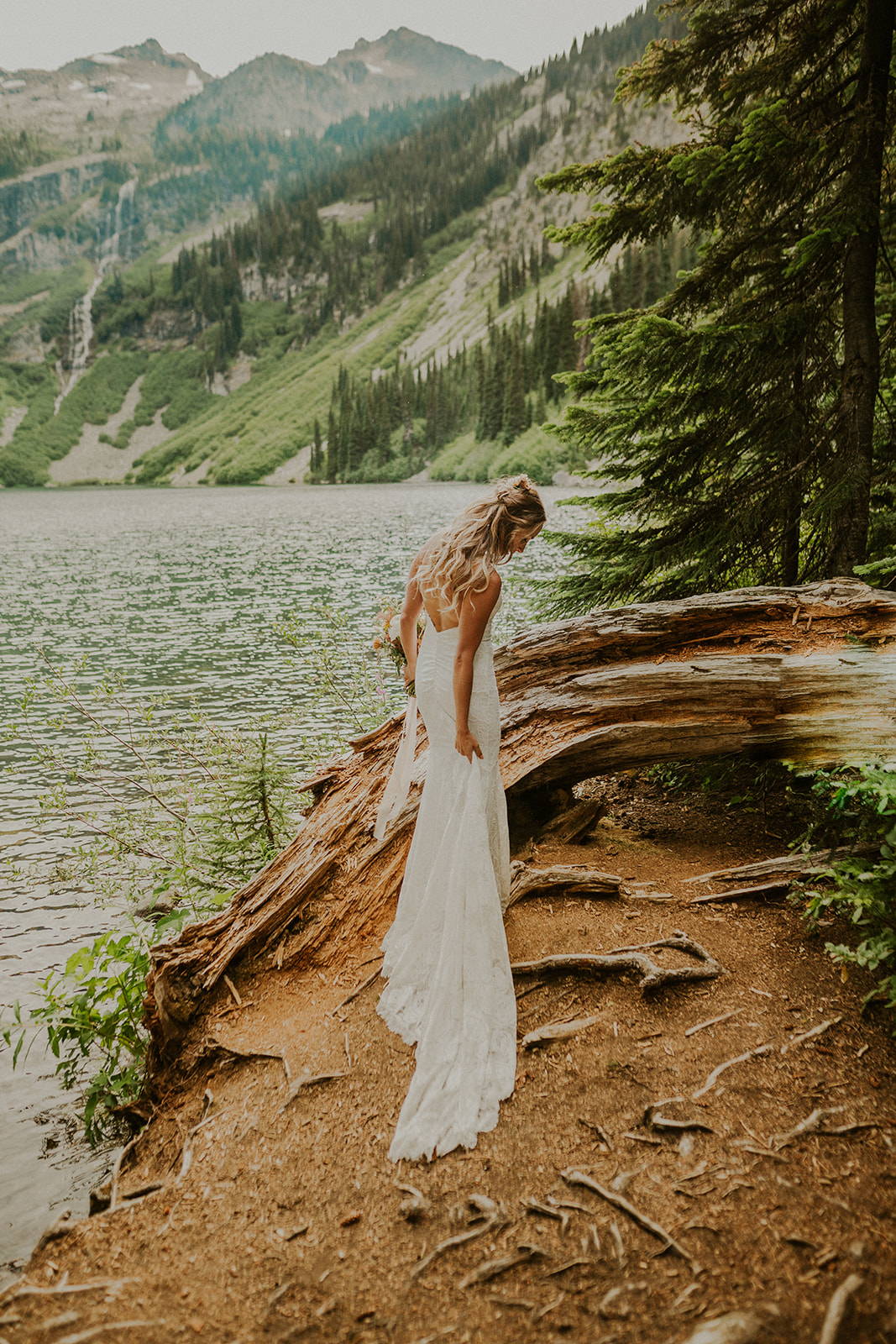 Tell us about your experience when you found your dress, did you buy your wedding dress online or in one of our showrooms?
I found and purchased my dress at the Dallas showroom and worked with Jaslynne. I cannot speak more highly of her. Jaslynne is personable, knowledgeable, her smile lights up a room, and you instantly trust and connect with her. I had two separate appointments, one with my now mother-in-law and another with my mama who flew in from Washington State. Both experiences were wonderful! My favorite memory was sitting on the swing with my mama after picking out 'The One.' Jaslynne took our picture and I will cherish it forever.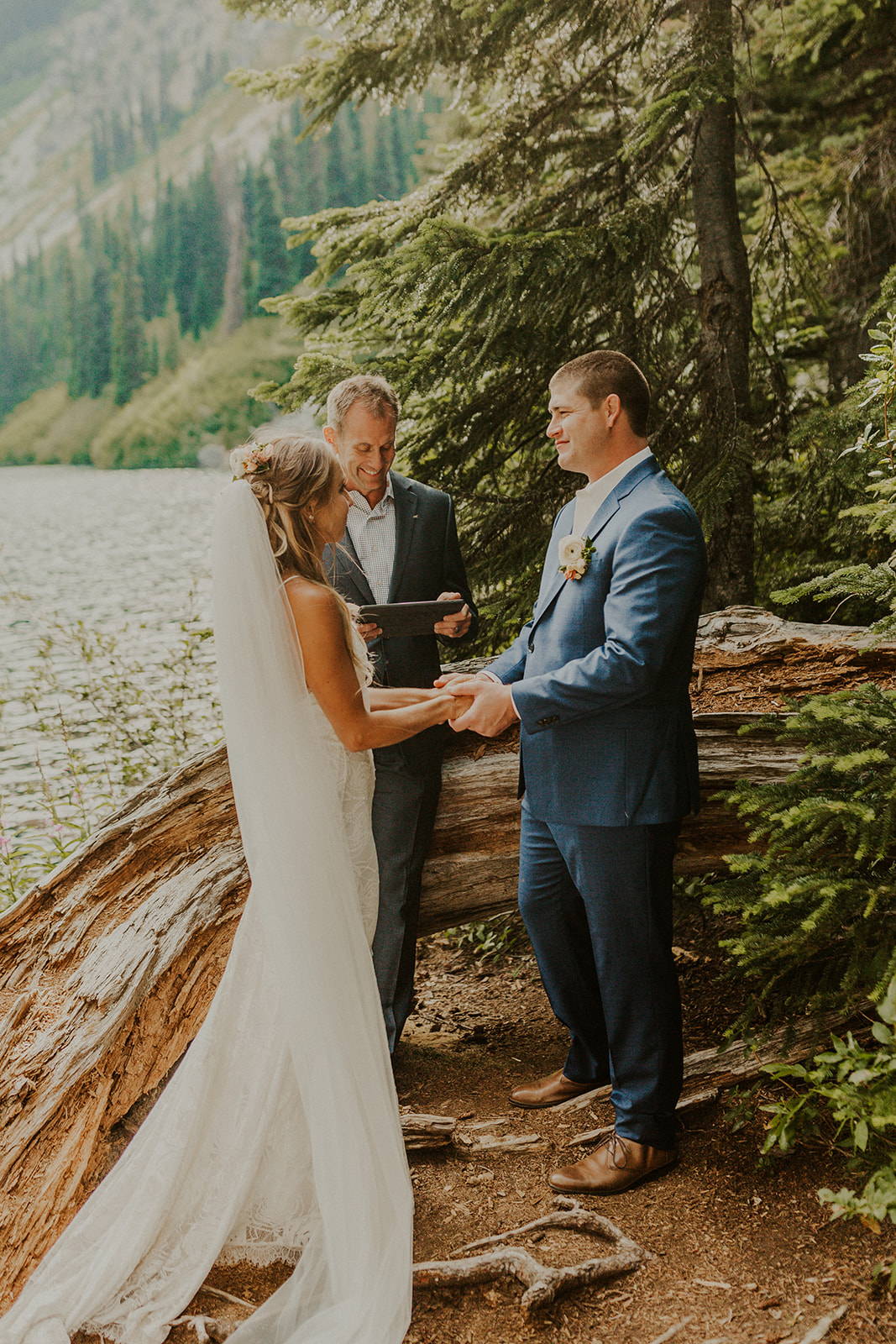 How did you feel in your dress on the day?
I felt truly beautiful, there's no other way to put it. I smile thinking back on the excitement and anticipate I had about putting my dress on that day.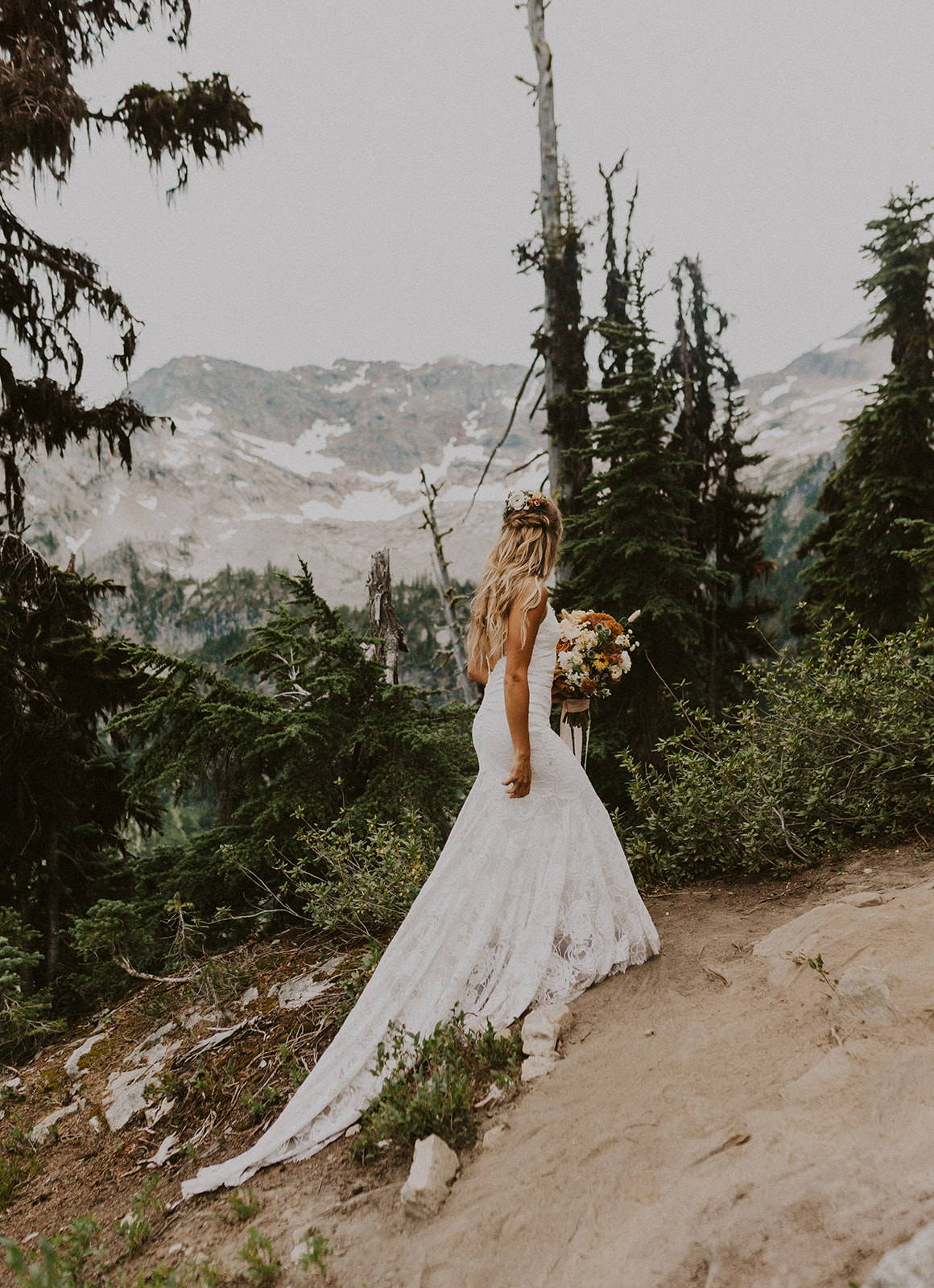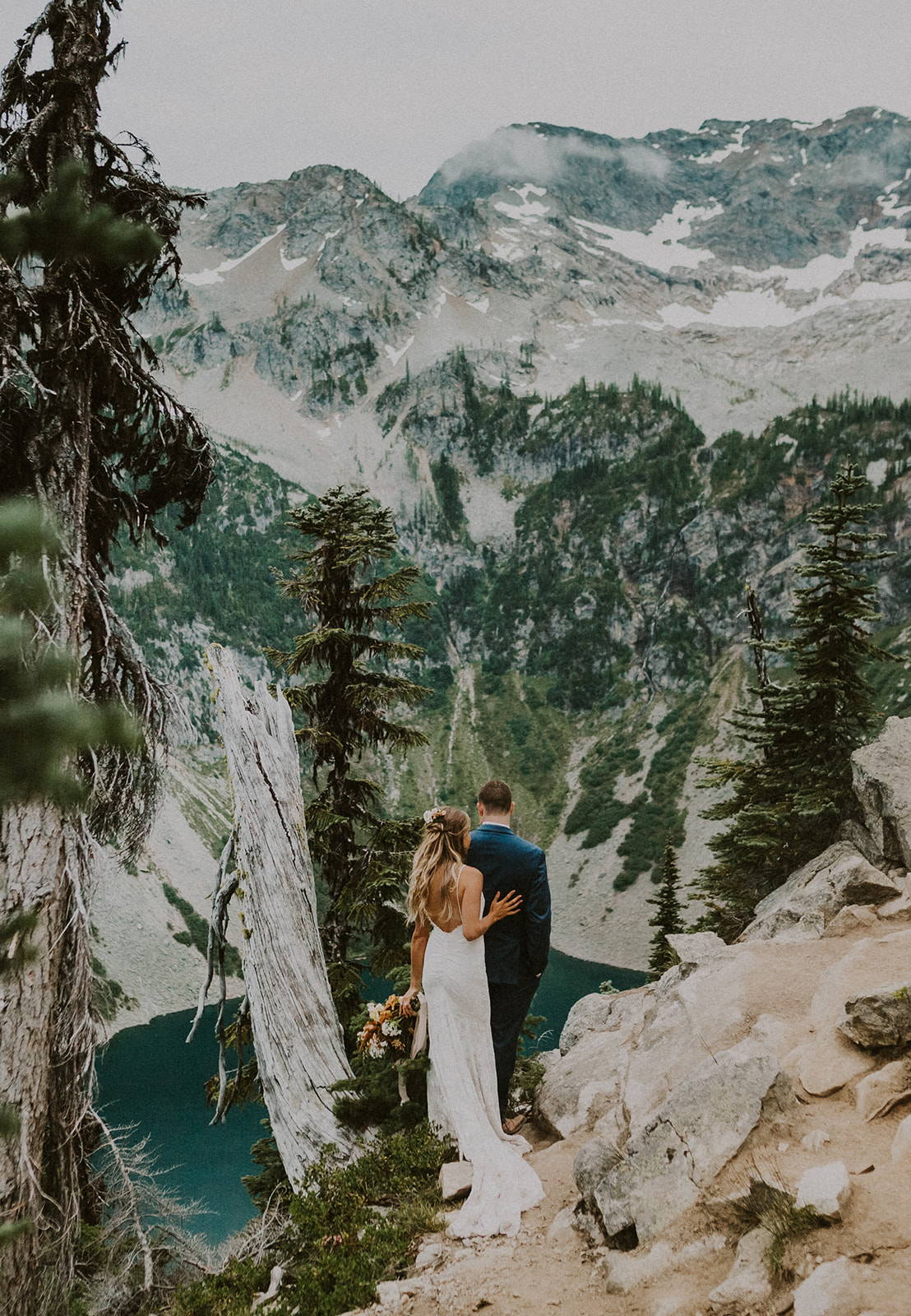 Where did you get married?
Tell us about the location & the style of your wedding day.
We got married in the North Cascades National Park in Washington State, at Rainy Lake, which is a 1 mile hike one-way from the trailhead to a beautiful alpine lake with mountains surrounding it and waterfall flowing into it. The style of our wedding was outdoorsy-whimsical. For our reception we sat on the ground on plush velvet pillows at two long tables with gold, burnt orange, green and blue accents.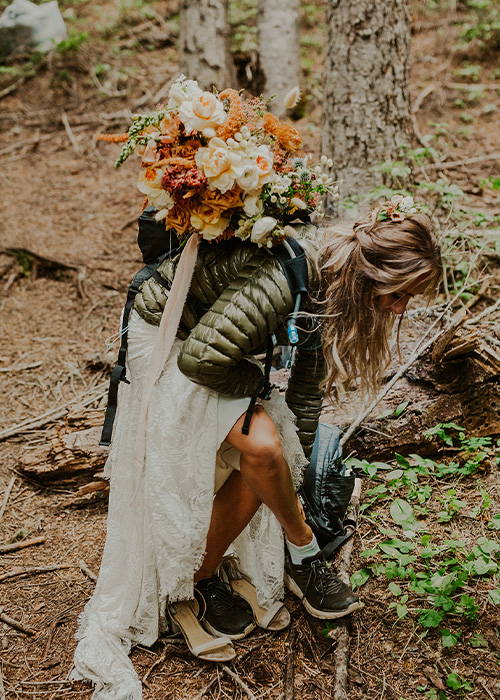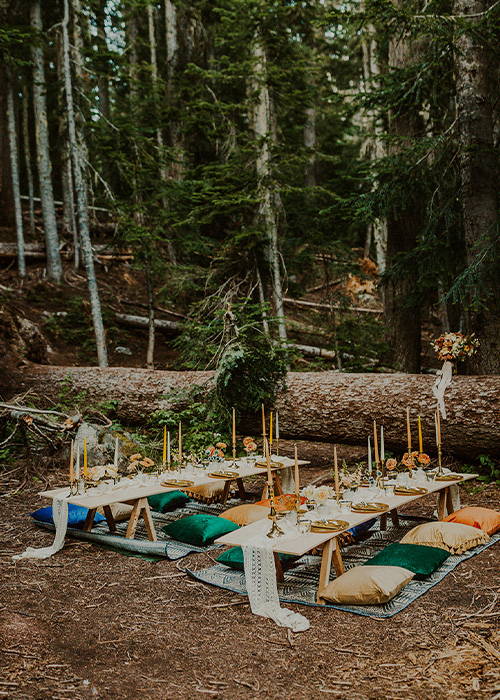 Tell us about your hair and makeup look
and the accessories you chose…
For my hair I had loose curls, with a middle part, and half of each side pulled back. In the back where the left and right strands of hair came together, I had a teased braid. Then I had a floral claw placed in the back above where my Henri veil was placed. For my makeup, I had the artist do it natural as I rarely wear makeup. She used warm gold tones to highlight my summer tan and a light pink shade on my lips. I wore my mama's small gold hoop earrings and my grandma's gold diamond necklace.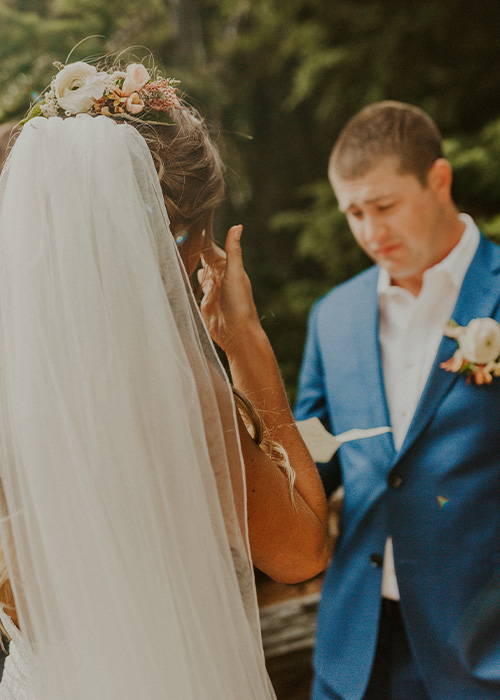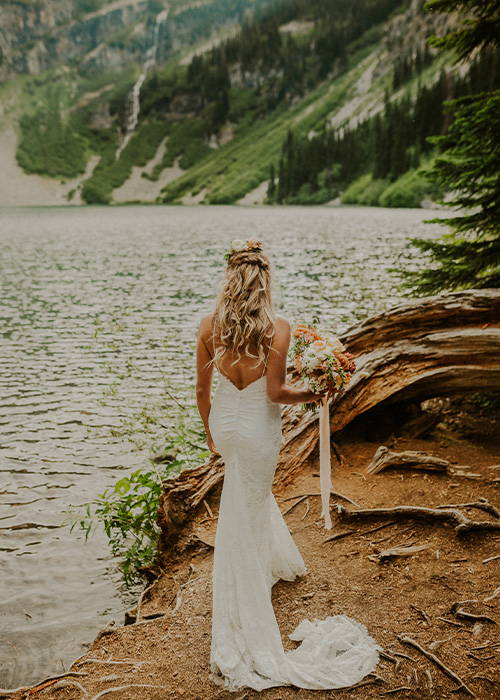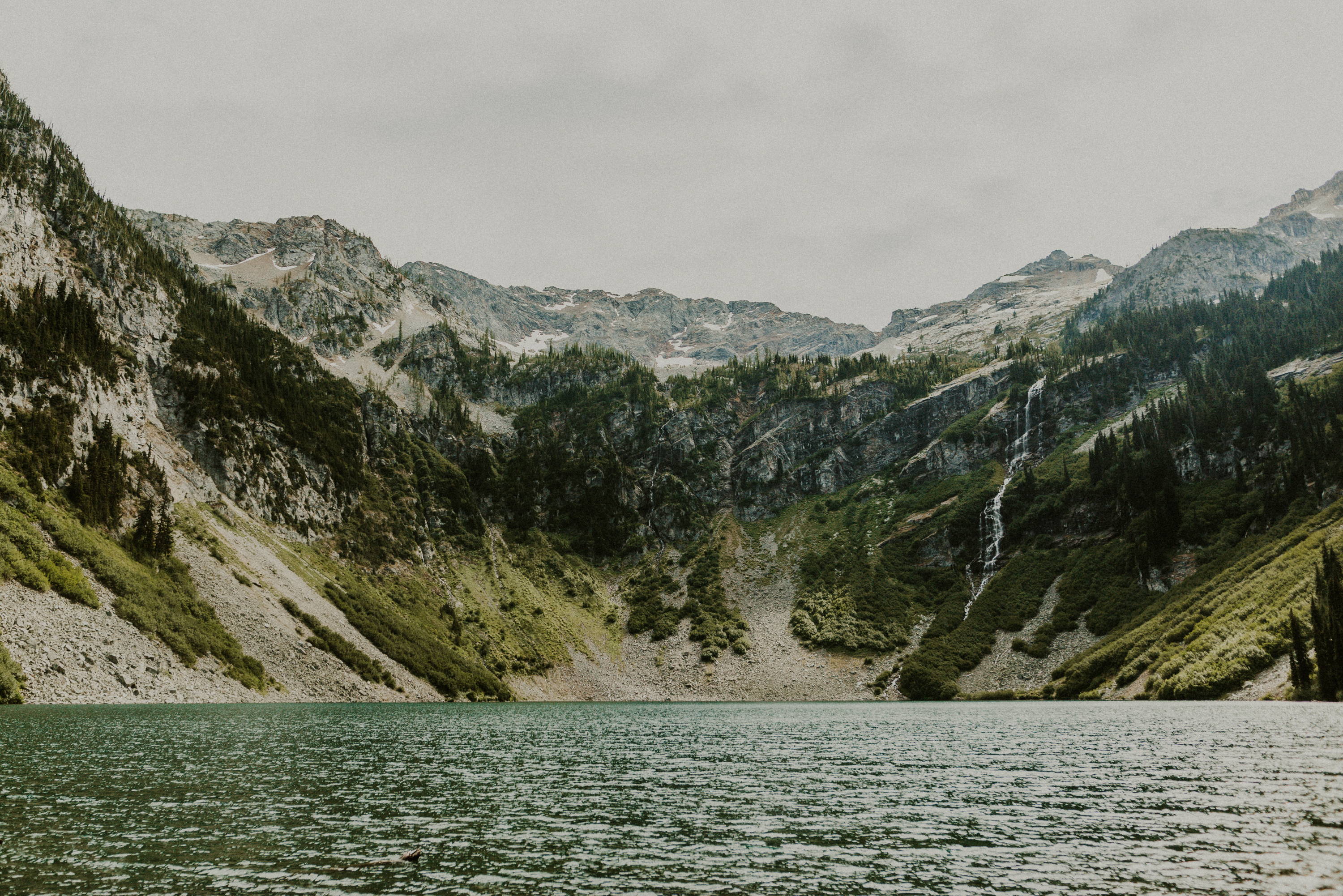 What made your day extra special?
After our ceremony and reception at the lake my husband, Sean, our photographer and I hiked up 1.5 miles, and over 1,000 ft in elevation, in our wedding attire (I wore my wedding dress and Sean had his suit on, but we did change our shoes) to an intimate spot in the mountains amongst the evergreen trees, overlooking the lake below where we said 'I do.'
The funniest moment on the day was…
walking down my tree-lined aisle to my soon-to-be husband and my Henri veil got stuck on a small tree branch. Thankfully, my dad was right there to unhook me and all was good!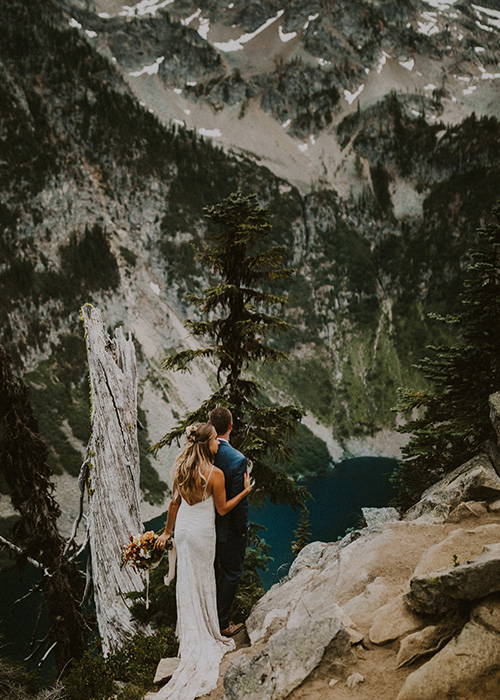 Where will you be honeymooning?
Due to COVID we couldn't leave to go to another country like we wanted to, but we improvised and had the most amazing time going to Glacier National Park, Yellowstone National Park, and Grand Teton National Park where we hiked and explored a part of our country that we had never been before.
Any last advice or words of wisdom that you can share…
Your wedding should be everything you want it to be, don't do it for others. Do what makes you and your partner the happiest, whether that's something big or small or in-between. The day is about the two of you, and celebrating your love so don't let that get lost in the wedding planning process. Lastly, savor your special day it will be here before you know it!