Angela & Sebastian in Palm​
#GRACEBride Angela is dressed head-to-toe in GRACE wearing our PALM gown, Frederike veil and paired ever-so beautifully with our MAYA earrings, alongside new hubby Sebastian.​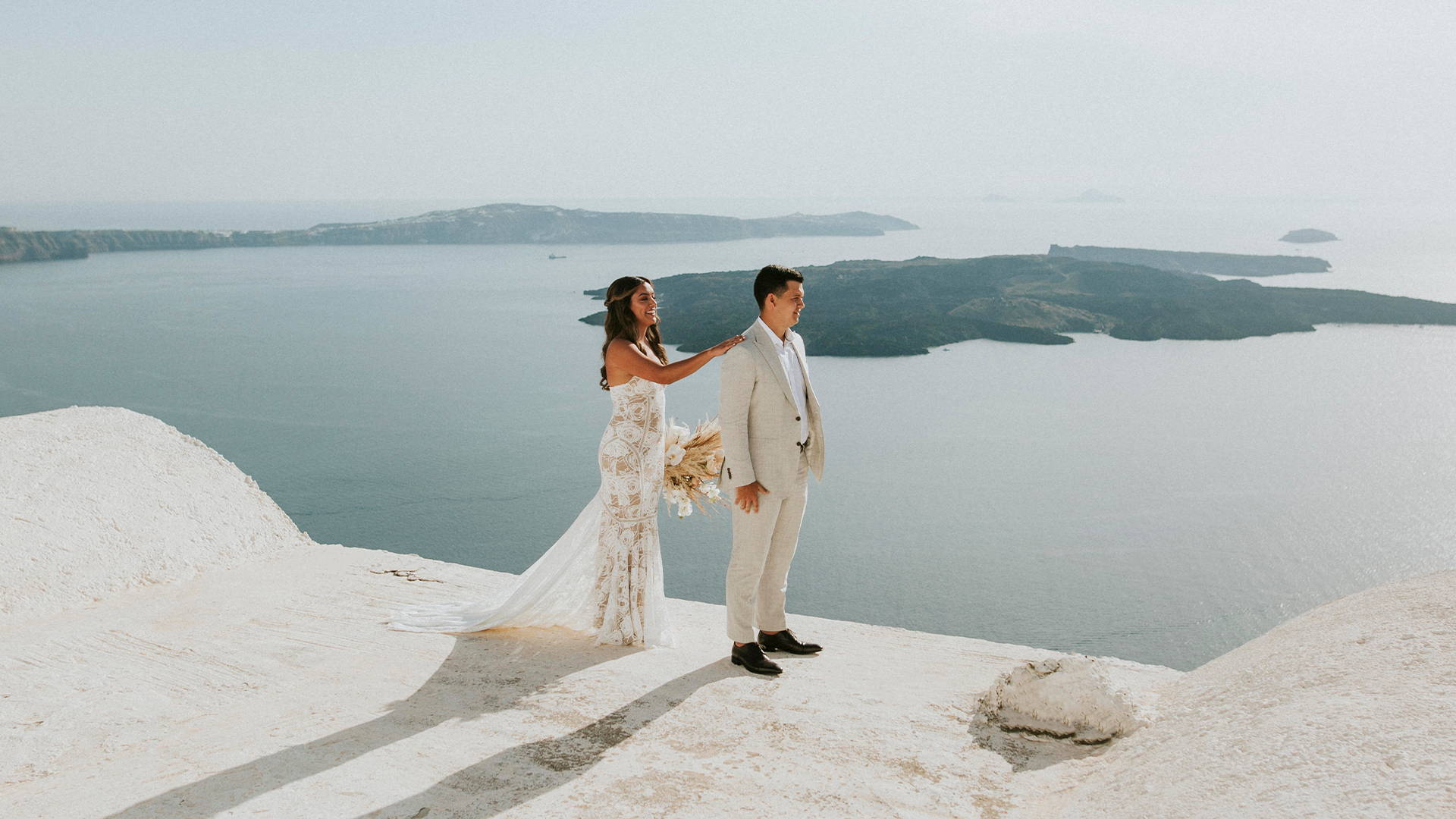 What is a GRACE woman to you?
Adventurous, Happy, Confident, Beautiful.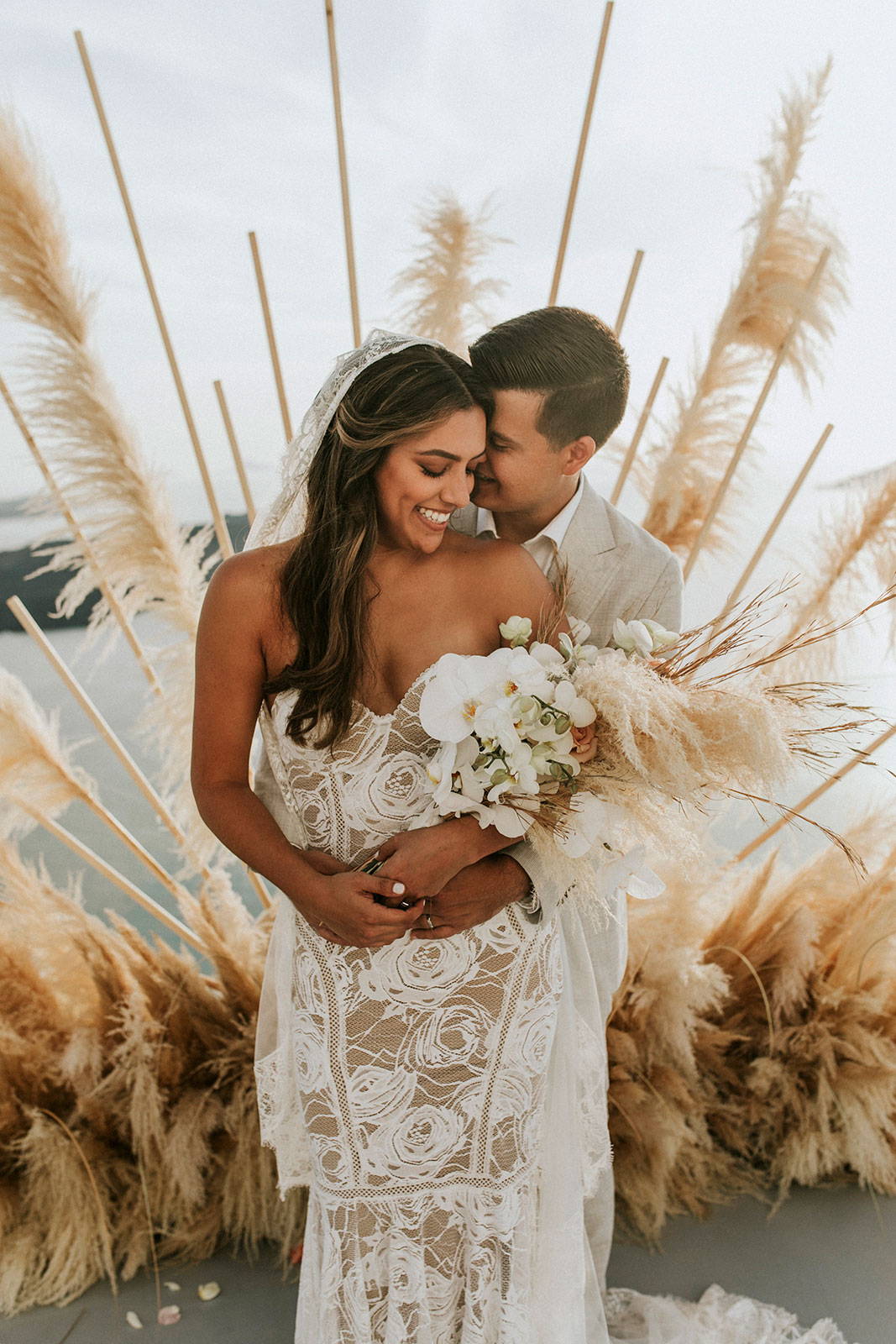 What is it you loved about your GRACE gown and accessories?
 I loved everything about my gown and accessories! The Palm gown has this beautiful stitching that accentuated and hugged my curves and waistline, and it made me feel so confident and beautiful. I also couldn't get over how lightweight the dress was. I knew it would be perfect for walking up and down the island. The Frederike Veil and the Maya Earrings were picked out by GLL Stylist, Emily, and it just went perfectly with the whole Bohemian/Greek theme that we were envisioning for our elopement.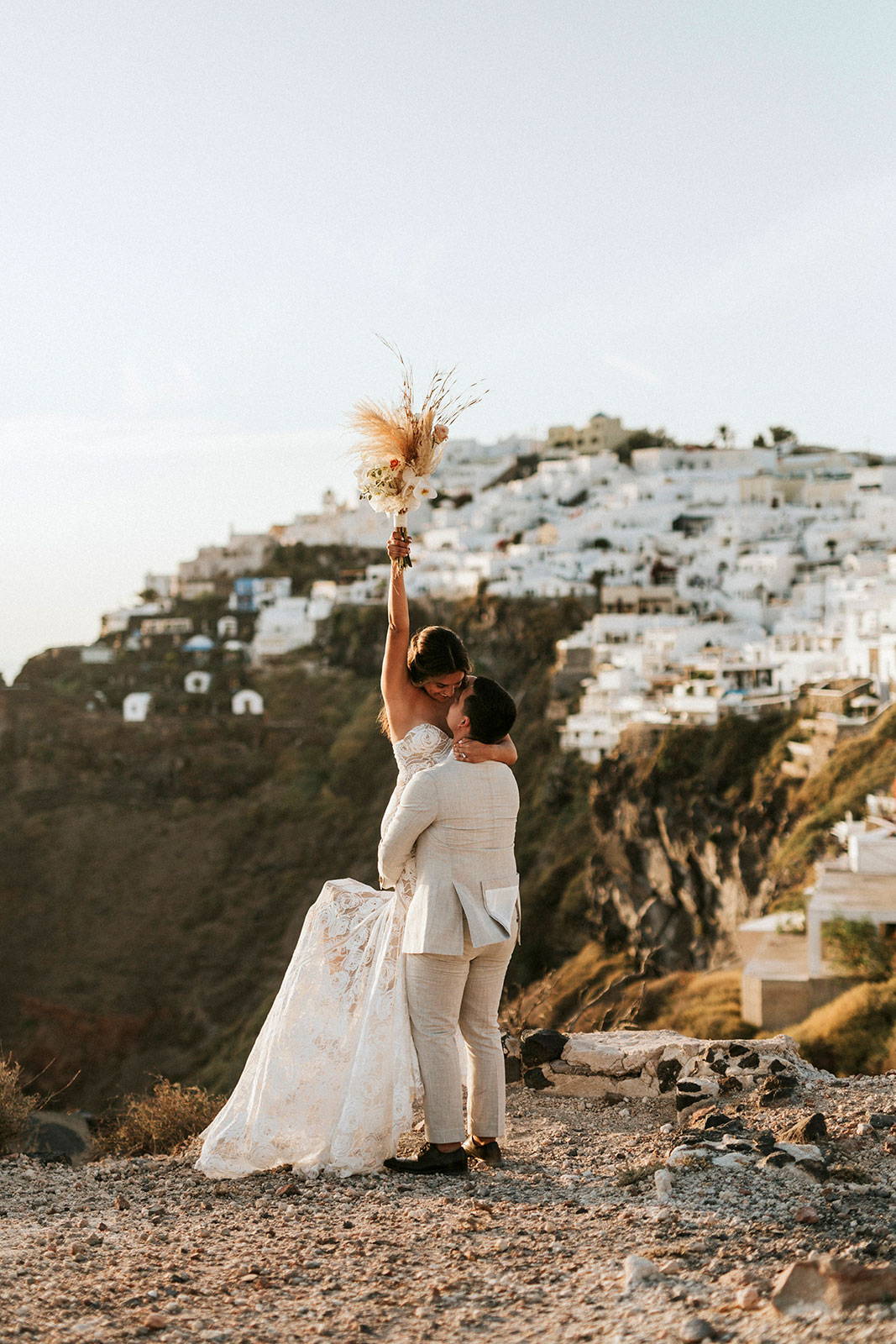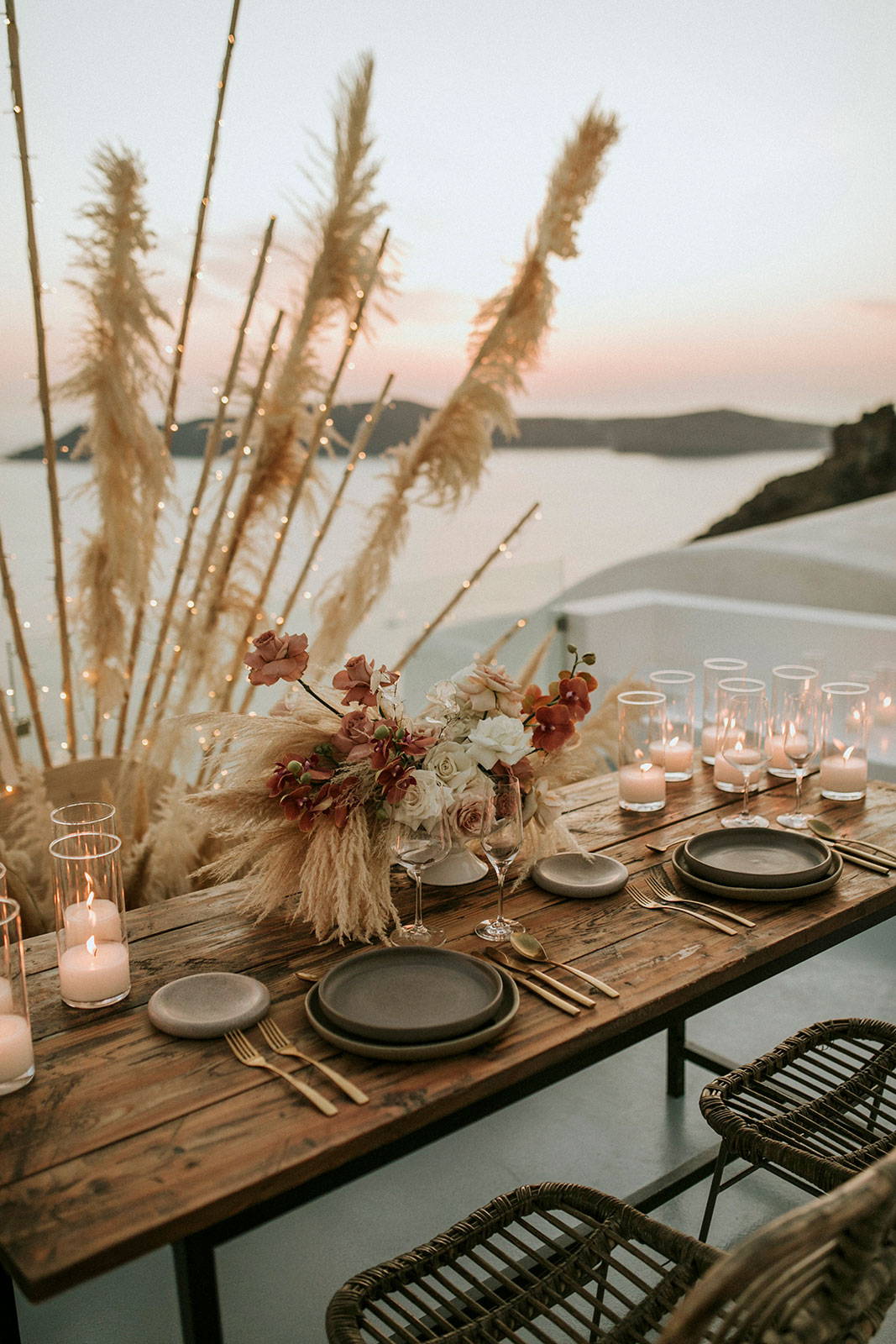 Tell us about your experience when you found your dress.
Did you buy your wedding dress online or visit one of our Showrooms?
We went to the Miami GRACE showroom during the opening weekend back on Feb 2021. I walked into the showroom with my mom and best friend. Emily Dugach was our stylist and she was so sweet and inviting from the start. At first, I had my eyes set on the CLO, but the last dress I happened to try on was the Palm dress and I instantly fell in love with the fit and all my insecurities disappeared. Emily helped pick out the Frederike veil and Maya earnings and once I saw the full look, I couldn't stop smiling and twirling around the showroom...I knew this was the perfect dress for me.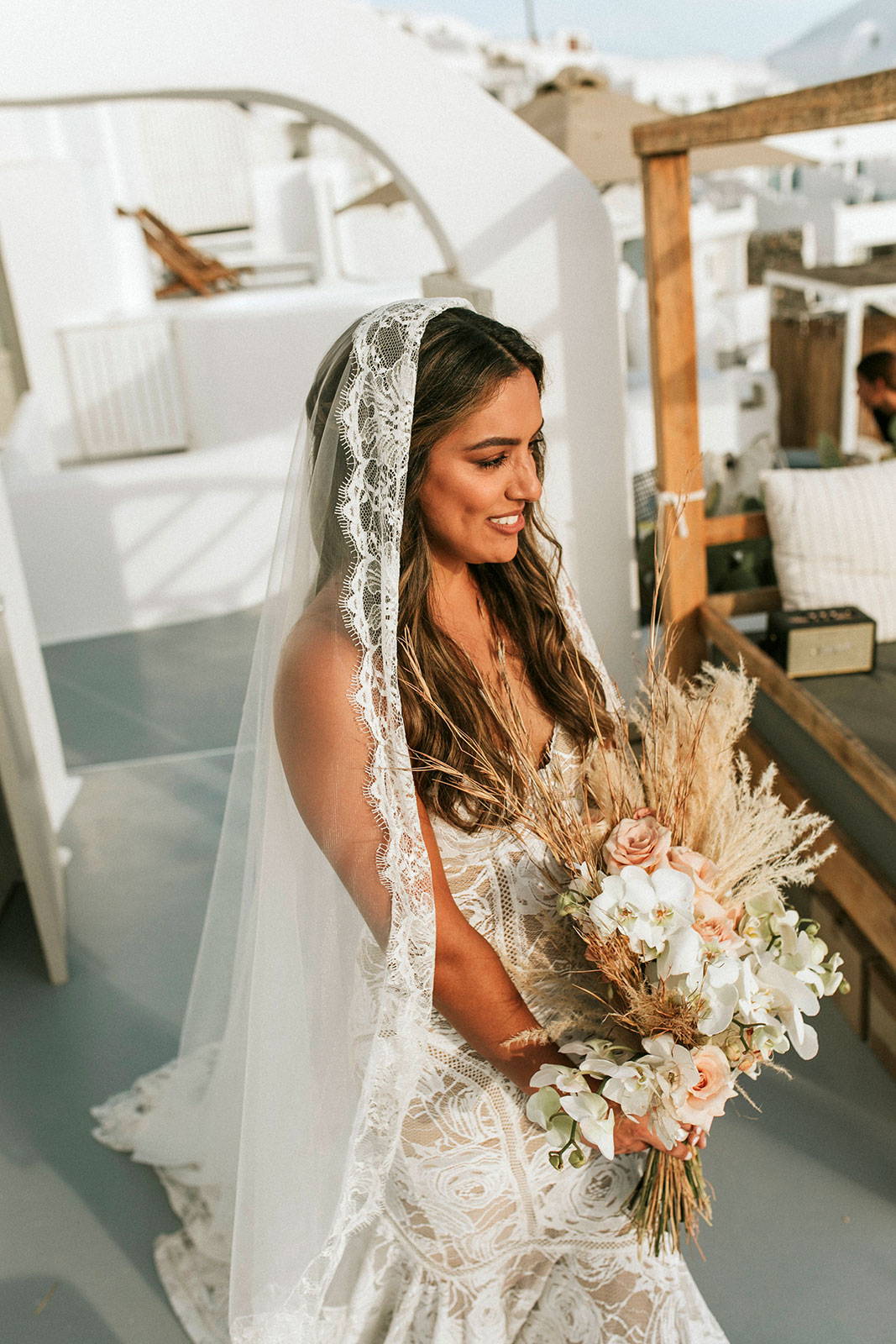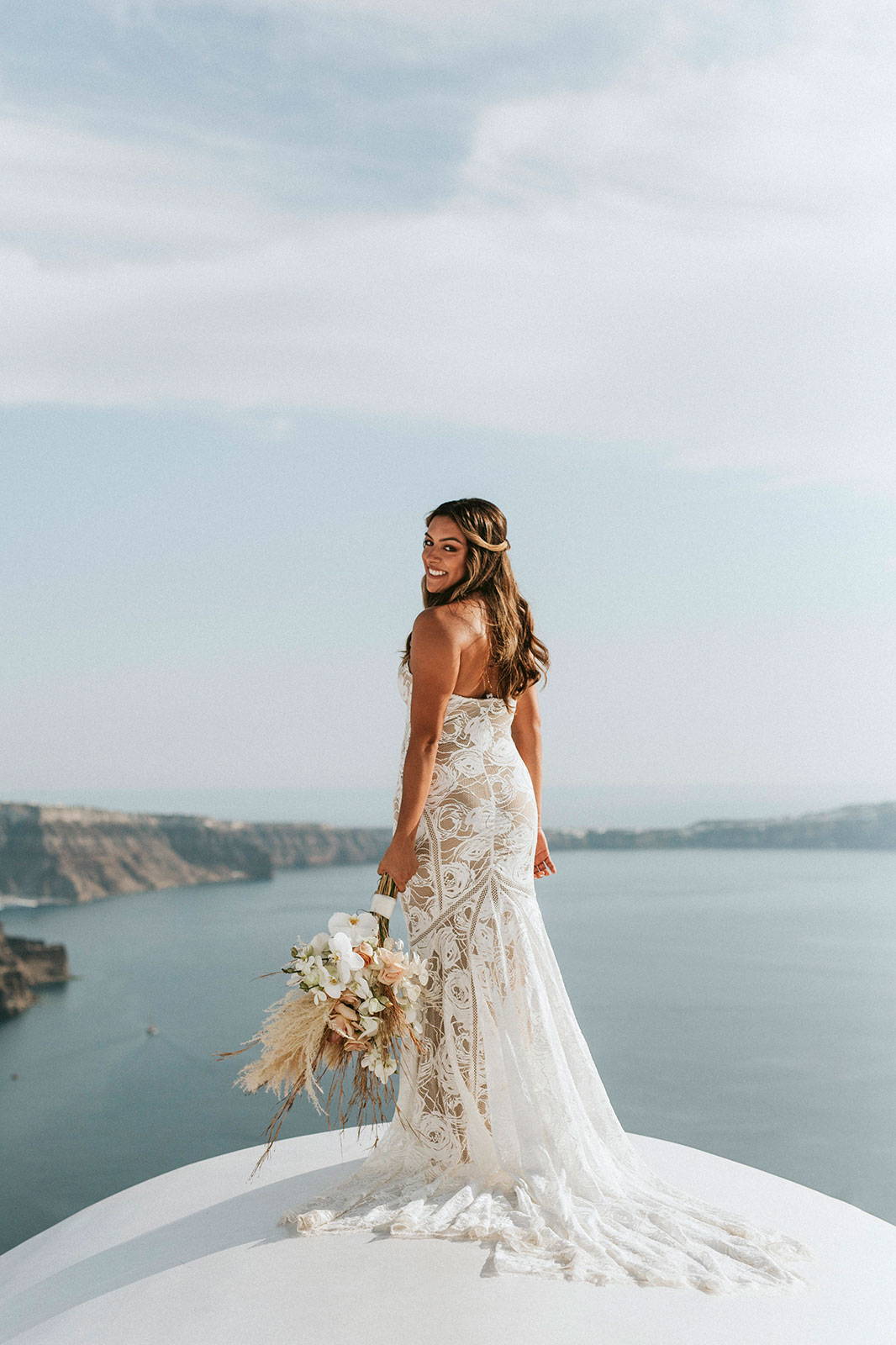 Describe your wedding day look…
It was very important for me to feel and look like myself on my wedding day. I wanted to style my hair and makeup in a way that was natural but noticeable. The chai lining on the Palm gown blended perfectly with my skin tone and  matched the neutral colors of our wedding decor that featured a sunshine of pampas grass and fairy lights. To accessorize, I wore the Frederike Veil, gold Maya earrings and nude/beige leather heels.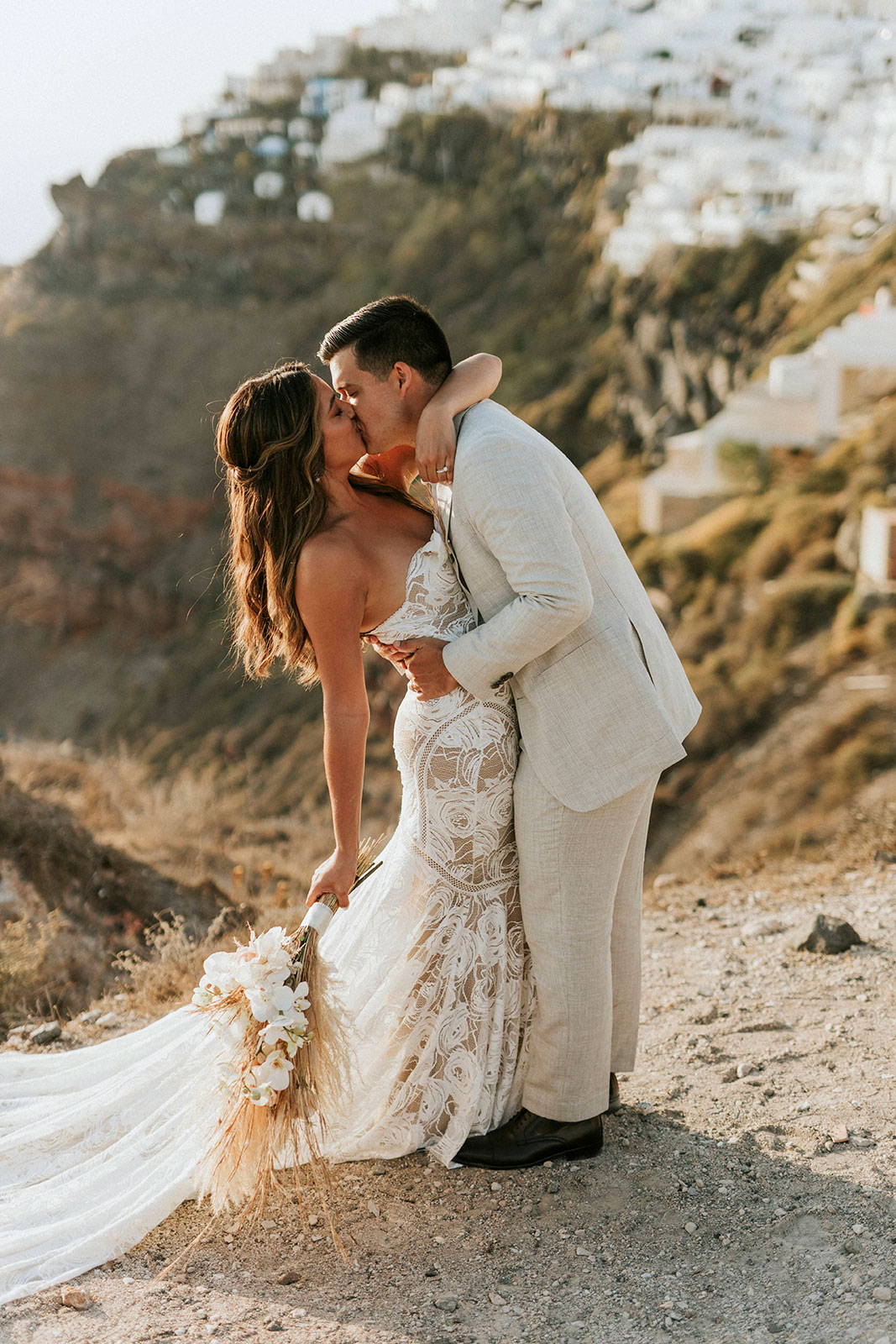 After six years together, I found a new job in my hometown and we spent seven months apart from each other. This was the longest we were spent apart from one another. Once Sebastian finally relocated to the same city, he planned a"Welcome Home" lunch to bring our families together and he proposed that very same day.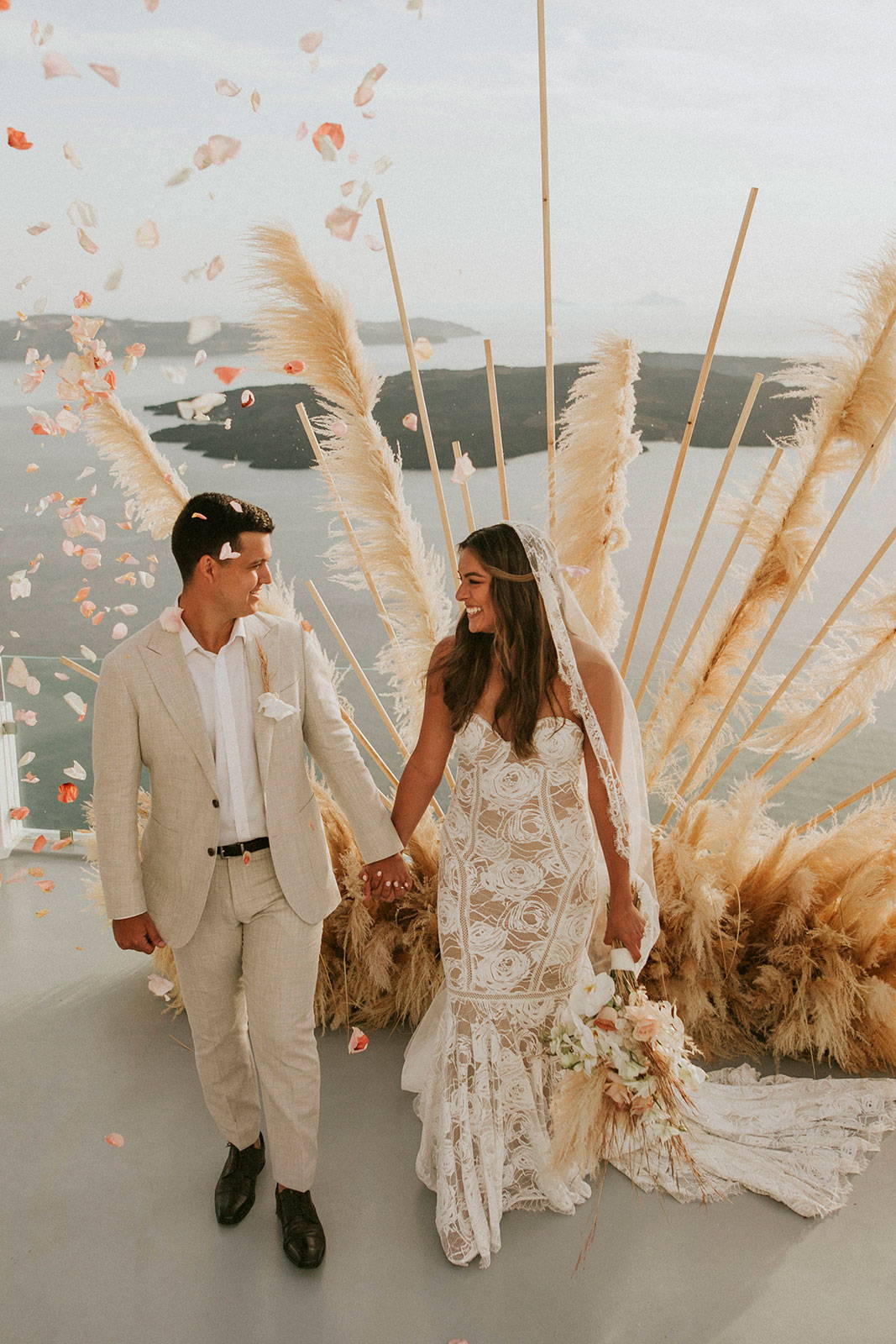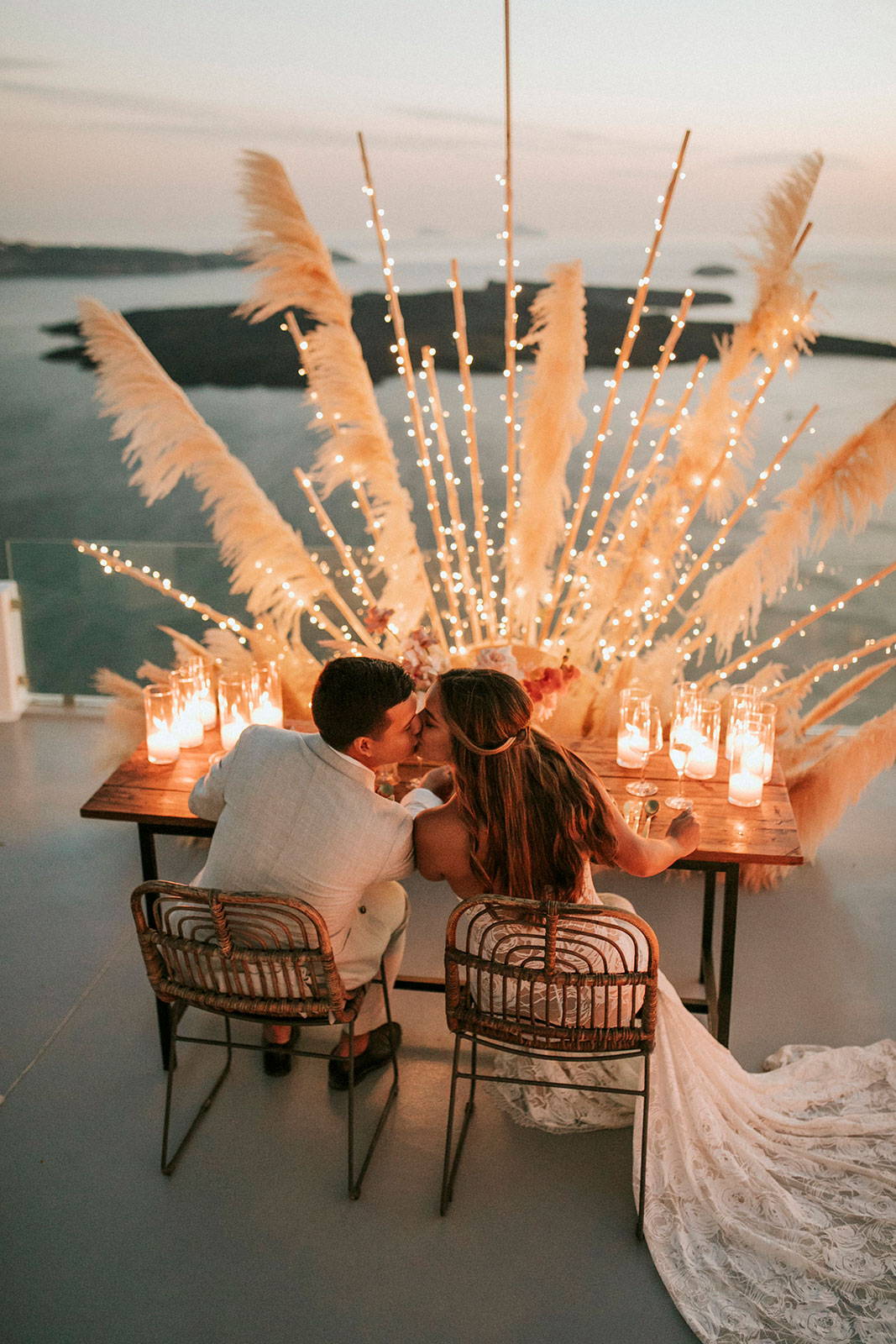 What was your goal for your wedding / what was the most important aspect to you?
We always dreamed of doing an intimate elopement in Santorini that would eliminate all the stress of having to decide on wedding details that would appeal to our guests more than for ourselves. Our goal was to hire a wedding coordinator that could take care of all the vendors and wedding details on our wedding day and they literally did just that. All we had to do was show up to our wedding day. Best decision by far, and we would do it over the same exact way a thousand times.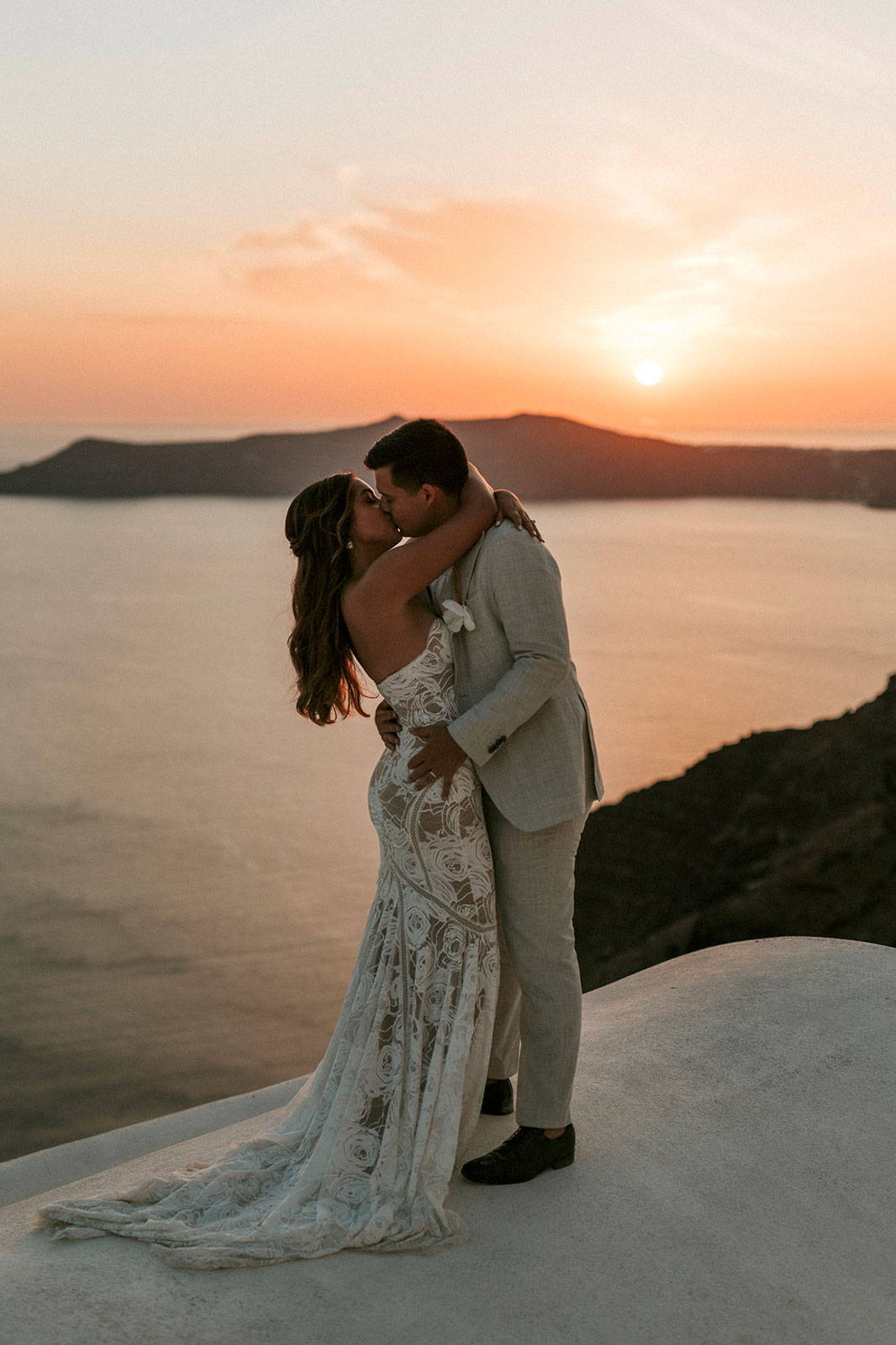 The funniest moments on the day were…
There's definitely at least two that cross my mind. The first was the island cat who joined us for our wedding dinner. Let's just say that he did not care for the starchy sides, and patiently waited for us to share a bite of our Ribeye with him! The other is also when we surprised our friends and family by FaceTiming them during work hours. Many of them were at least seven hours behind and we enjoyed watching them try to contain their excitement during their work hours.
What was the most stressful part to planning? ​
Having to reschedule our wedding date multiple times to an unforeseeable future was definitely the toughest part. We originally planned our Wedding for May of 2020 and after multiple postponements, we finally landed on September of 2021, but luckily our wedding coordinators handled all of the rescheduling with our vendors to reduce the majority of the planning and stress.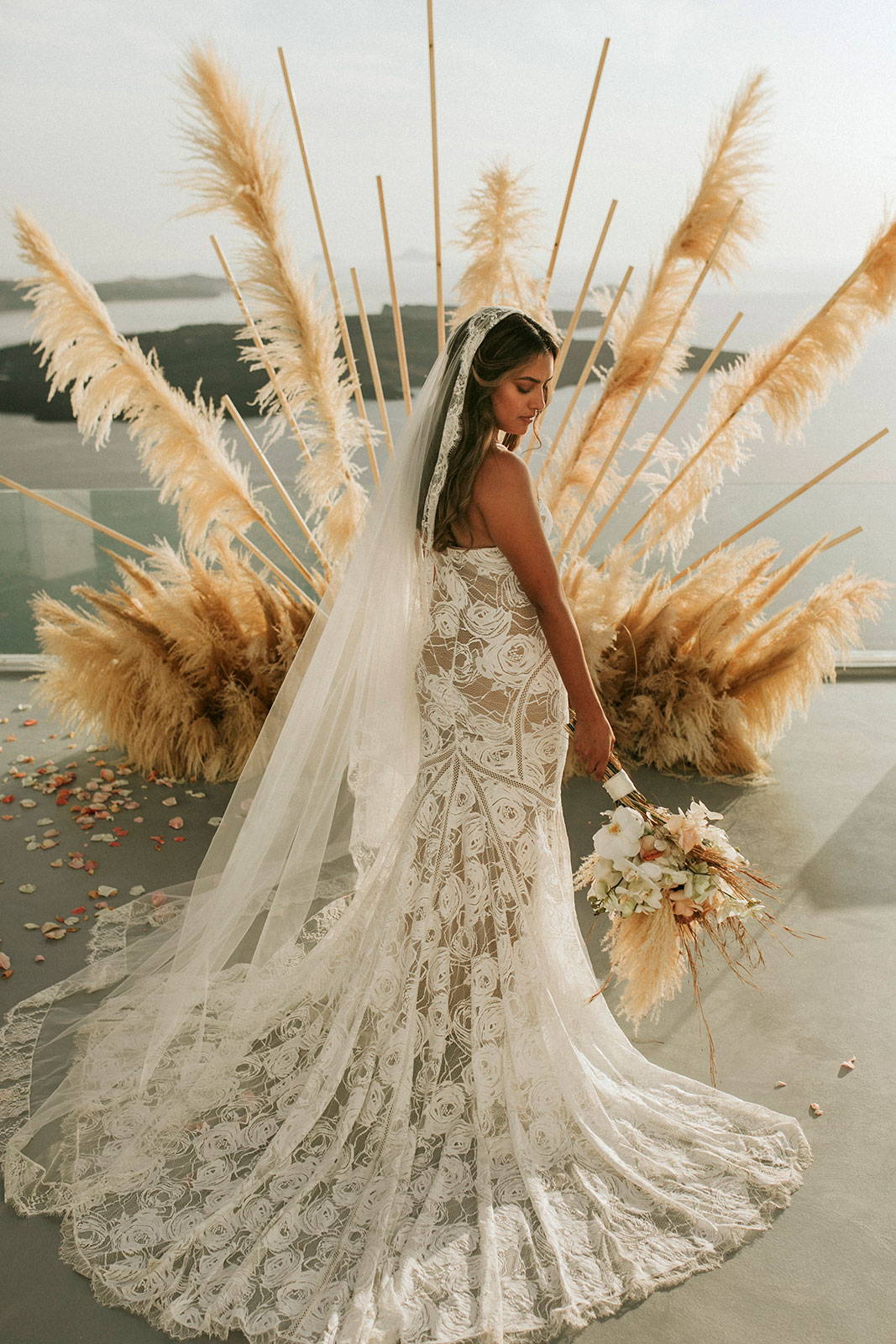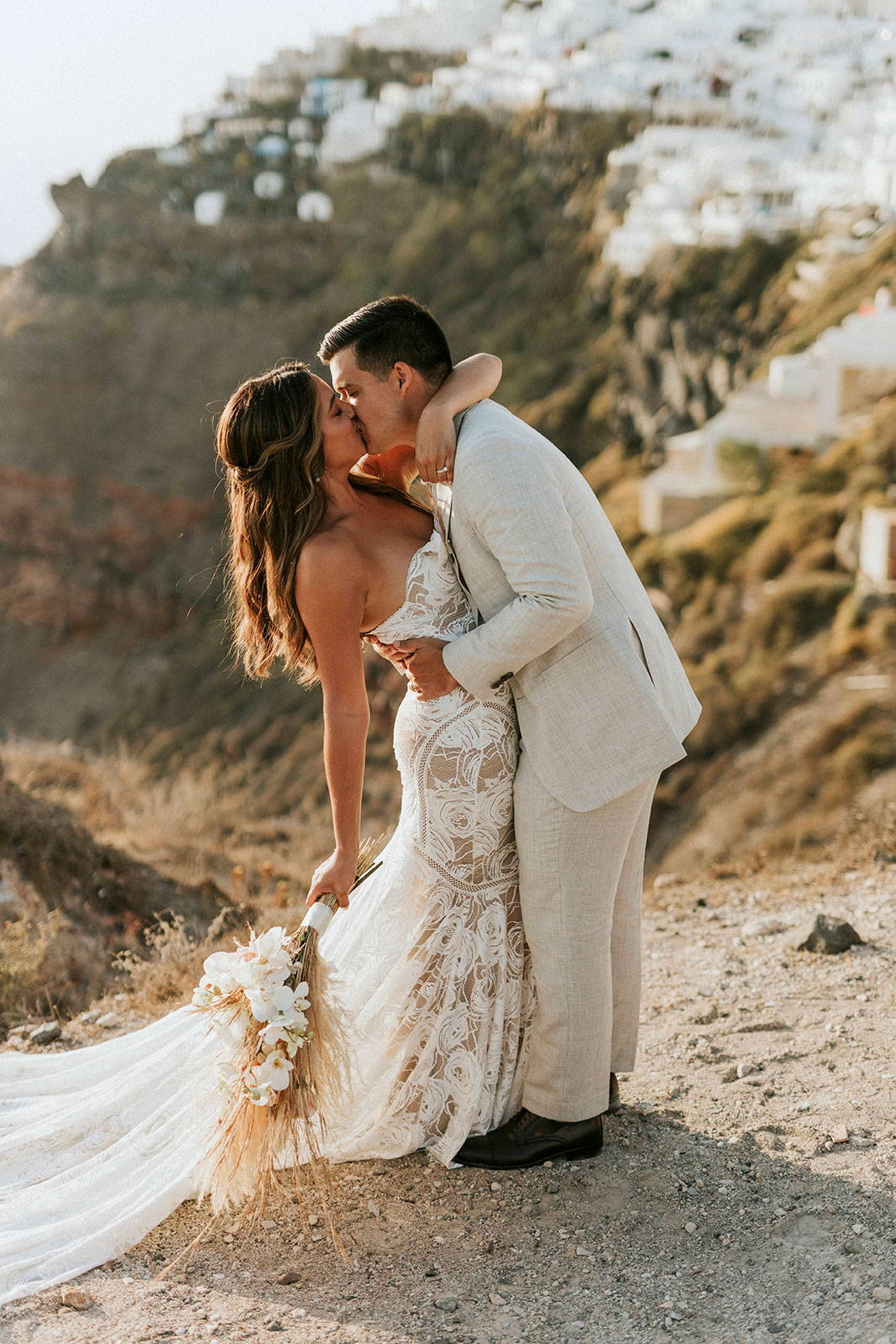 Any top beauty/health/fitness or wedding preparation advice that you can share…
Do not wait a couple weeks before your wedding to decide on your hair color/cut/style. I booked several appointments with my hairstylist in my hometown to nail down the exact color and hairstyle that I would want on my wedding day. I took a risk of getting my hair and makeup done with a makeup artist/hair stylist in Santorini that I had never met, but showing pictures of exactly how I wanted my hair and makeup helped nail the look!



Videographer: Alexandros Iliakis - DG Films